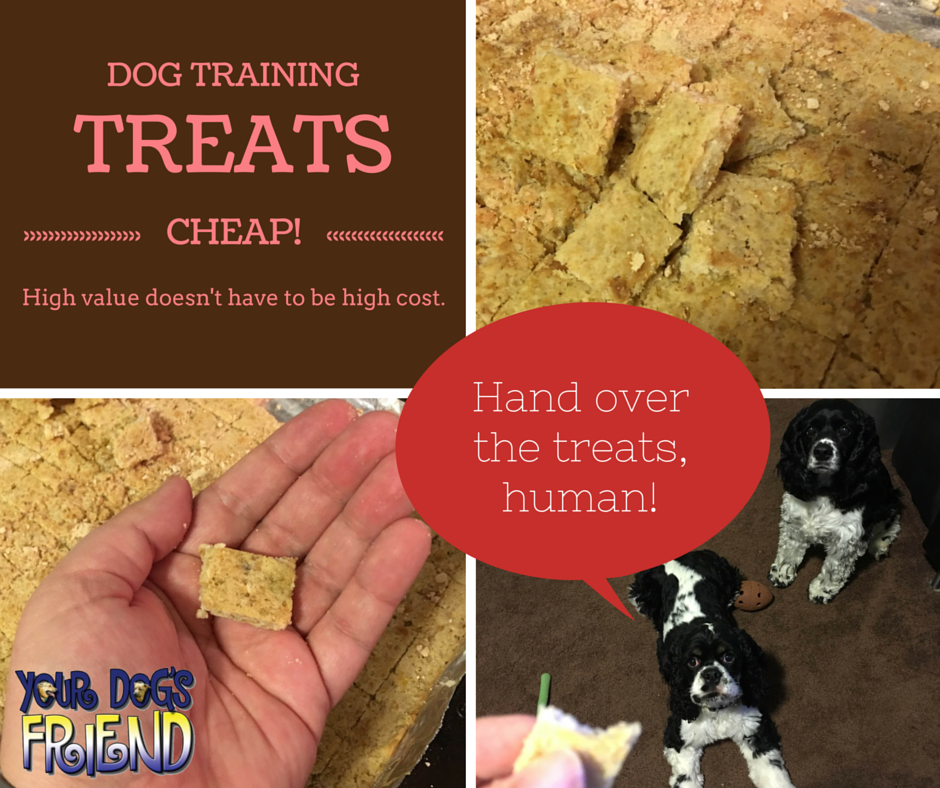 I can't believe I'm going to share this secret with you. Especially if you shop at "my" Safeway (the new one on Rockville Pike). If there's a sudden lack of my secret dog treat weapon, I'll have no one to blame but myself for telling you all about this…
But it's okay because Your Dog's Friend fans deserve it.
Secret Cheap Chicken
At Safeway, there is a cooler where they keep hand-trimmed chicken breasts. Next to those beautifully trimmed chicken breasts are packages labeled "Chicken Fat."  They are $0.79 a pound. Grab a package of about 1.5 lbs (under $2!). Look for one that appears to be more meaty than fatty.
These are the trimmings from those expensive chicken breasts. They have fatty bits attached, but getting rid of the fat is as simple as boiling water.
Getting Rid of the Fat
Go home, fill a pot with water and put the chicken in it. Boil for 20 minutes or so. This will render off the majority of the fat, leaving just chicken. Scoop out the chicken pieces, rinse them (if you want), and bam, you get about 12 ounces of perfectly useable boiled chicken!
Ta-da! You Can Be Done Right Here.
Cool off the chicken. Chop it up. Toss it in your treat pouch and bring it to class.
You can use the fatty broth for anything else you like. Make soup. Mix it into mashed potatoes. You get the idea.
Make Some Cheap Dog Treats!
Ingredients
12 oz (or so) of boiled chicken meat
2 eggs
1 cup of flour (for grain free, chickpea flour or rice flour works!)
1 cup of parmesan cheese (I use the sprinkle kind from a can)
(Optional) 1 tbsp PB2 (powdered peanut butter) or 1 tbsp fresh or dried parsley
Instructions
Preheat oven to 350F.
In a food processor, process the chicken chunks until they're a ground meat consistency. (You may have to add a little water depending on the amount of chicken and the strength of your food processor.)
In a large bowl, mix ground chicken, eggs, flour, and parmesan cheese thoroughly.
You should have a consistency that will form into loose meatballs. If it's too crumbly, add water. If it's too squishy, add flour. (It's not an exact science.)
Cover a large baking sheet with aluminum foil and spray with cooking spray.
Spread the chicken mixture so it fills about half the tray. It should be a fairly thin layer.
(optional) Sprinkle the top with PB2 or parsley.
Bake at 350F for 20 minutes.
Turn oven down to 200F. Bake another 20 minutes.
Turn the oven off. Leave the tray in the oven another 20 minutes, longer if you want them more dry.
You will now have a pan of delicious homemade chicken treats!
Slice them into whatever size works best for your dog.
One they're cool, store them in a ziplock bag or sealed tupperware in the fridge. They're usually long gone before you have to worry about them going bad.
Enjoy!
https://yourdogsfriend.org/wp-content/uploads/2016/02/Hand-over-the-treats-human.png
788
940
Nicole Wright
https://yourdogsfriend.org/wp-content/uploads/2022/04/YDF-site-name-tagline2.jpg
Nicole Wright
2016-02-05 10:30:30
2022-04-12 09:53:53
79 Cents for High Value Dog Treats from Safeway